To have an Indiana sale event posted on the Indiana Lincoln Highway website, call 574-210-6278 or email the location of the sale, the dates and time of the sale and a contact person, phone number and email address to the Indiana Lincoln Highway Association Office at: LincolnHighwayAssoc.office@yahoo.com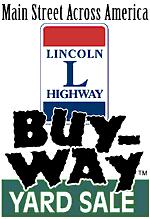 Hoosier sales can get listed a second time –
BUY-WAY Yard Sale participants in any state may list their yard sale information on the Ohio byway website, (http://www.historicbyway.com). Shoppers may then print the sale location list and use it to navigate their shopping experience on the Lincoln Highway. For detailed information and ideas on how to hold a successful sale, visit www.historicbyway.com.
Indiana Buy-Way Sales Listing:
Cromwell – Town-wide sale – on SR 5 a few miles west of Kimmell
Take W Cromwell Rd west off US 33, south of Kimmell
August 9-11
Contact: Janelle Moss, 260-704-6678
Ligonier – Ligonier Visitors Center & Heritage Museum
800 Lincolnway S (SR 5)
August 9 – 10, 9 am to 2 pm
Contact:  Norma Donley, 260-463-6647
Osceola:
Peg Ramey
11910 Lincoln Way W.
Stone's Trace – Between Kimmell and Ligonier
5111 Lincolnway South (US 33), Ligonier
August 9 – 11
Contact: Janelle Moss, 260-704-6678
Warsaw:
Kosciusko County annual Lincoln Highway sale
Old 30 W & N 350 West (west of Warsaw)
August 9 – 11
Wolf Lake:
Living Water Lutheran Church
1197 S. US Hwy. 33,Wolf, Lake, IN
August  9 – 11      9 am to 4 pm
Contact: Darlene Haugen, 260-244-4778
Zulu
Over 10 vendors under one roof – approximately 4 miles east of the 930 / I-469 interchange on Lincoln Highway, St. Louis, Besancon Hall, New Haven, IN – Watch for the signs.
Collectibles, Quilts, Jewelry, Homemade Noodles and Baked Goods, plus many tables of garage sale items.   Sandwiches and drinks are also available.
August 9 & 10 – 8 am to 6 pm
August 11 – 8 am to 1 pm
Contact:  Beth K at zulugang@hotmail.com