Dear Friends of the Lincoln Highway,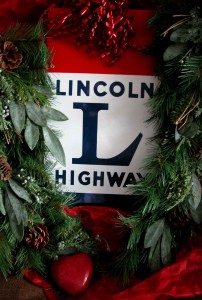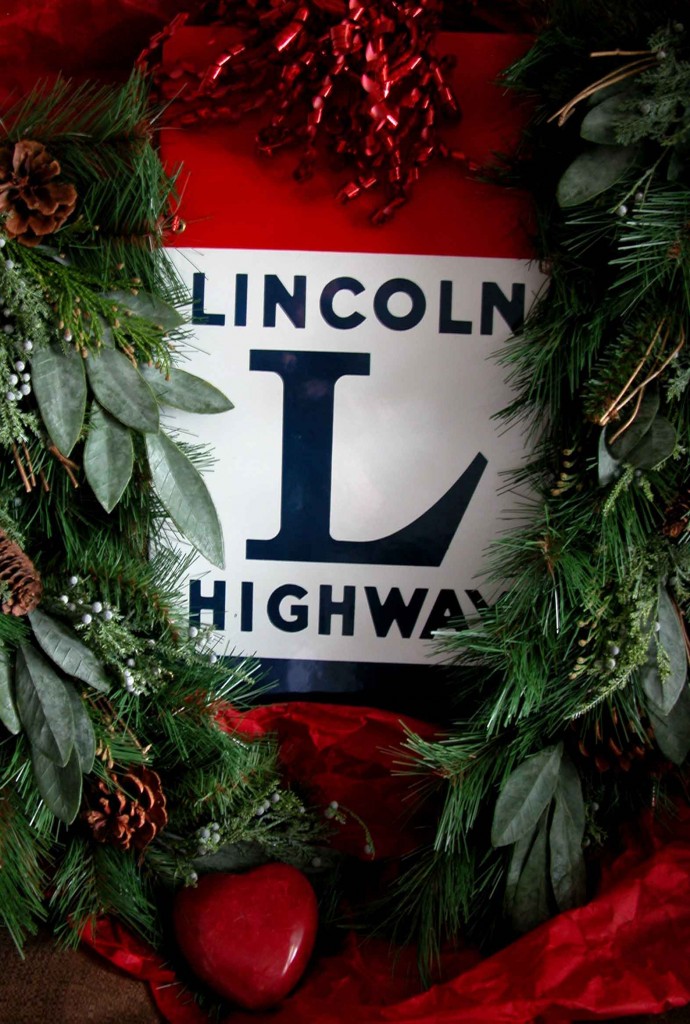 The last 2 years have been "interesting", have they not? COVID-19 has changed our lives in many ways ranging from severe illness to even death for a small percentage of our population. We have all learned how to do virtual work from home, to ZOOM our friends and family. Most of us have grown somewhat accustomed to wearing a mask in very public places. Gatherings and conferences have been cancelled, in many cases more than once. Yet we have the opportunity to come out of this pandemic much smarter as a whole…we will be safer, we will communicate in new ways…perhaps more effectively, we might travel differently, many will absolutely work more frequently from home, we may even be more thankful for what we have, realizing that many have lost friends or family or jobs.
As an organization we have not stopped finding ways to meet, to communicate, to continue our progress on educating the public on the beauty and historic significance of the Lincoln Highway across Indiana, to promote local tourism along our scenic BYWAY, to use the Lincoln Highway for great stories and to guide us to wonderful venues.
Your Indiana Lincoln Highway Association held meetings in both Elkhart and New Carlisle/Rolling Prairie this year; we placed an additional 30 BYWAY signs across our two alignments to help a motorist follow the original routes as closely as possible, we erected 2 historic panels in Bourbon in partnership with the city; we have created 5 Control Station banners and signs across the 1913 route—places to remind us of
the good old days of early auto travel where a driver could get food and lodging information plus learn more about where the Lincoln Highway leads; we updated our turn-by-turn guides for both of our route alignments to point out key vistas, buildings, historic panels and markers, bridges, courthouses and more. You can find them on our website and plan some day trips.
This is the time of year for each of us to be truly thankful and to share love and caring with everyone. It is a time to plan for 2022…trips along the Lincoln Highway, a national conference for our LHA family in June in Joliet, Illinois (and you are invited), more updates to our website on interesting things to do and see along our routes, more partnerships with cities and towns along our two routes that result in tourism
opportunities, and more. I would also remind you that the Lincoln Highway here in northern Indiana is one of a very few true BYWAYS in Indiana or even across the United States. We are consistently reviewing our Corridor Management Plan that helped us achieve that recognition and which provides strategic direction to our leaders.
We would be honored by your involvement as we get ready for a safer and enjoyable 2022 and beyond. Help us by providing some TIME—can you join us for 1-2 meetings per year for some review of the road in that area and some sharing of ideas for the future? Or help us out with your TALENTS—managing computer software, road beautification, marketing materials, or good old manual labor from time to time?
Or help us with a small amount of your TREASURE—join our national organization and get on the mailing list, or make a donation of any size to our state organization that will help accomplish our mission more easily? See below to make an online donation. Please stay safe this Holiday Season and beyond. We would love to have you join us one way or another and help us carry out the INLHA vision and mission. Thank you.
Jeff Blair, President
Indiana Lincoln Highway Association,
15493 State Road 23
Granger, IN 46530
Can you help us with a donation? Even $5 or $10 would greatly help. All donations are tax deductible, as the INLHA is a 501 (c) (3) organization for IRS purpose. You can use the PayPal "Donate" button below with a credit card even if you don't have a PayPal account: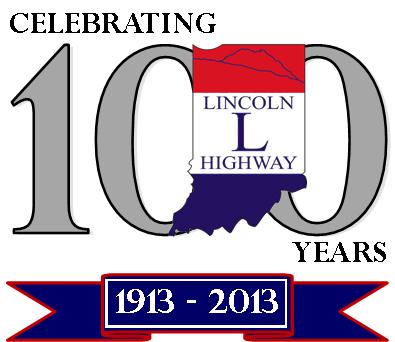 ++++++++++++++++++++++++++++++++++++++++++++
Announcing the Indiana Lincoln Highway Byway The Official State of Indiana Designation for the Old Lincoln Highway across Northern Indiana
The Board of Directors of the Indiana Lincoln Highway Association received official word from the Indiana Department of Transportation (INDOT) on Thursday, October 6th, 2011 that Indiana Lt. Governor, Becky Skillman, and INDOT Commissioner Michael B. Cline, signed the official resolution designating the historic Lincoln Highway across northern Indiana as an official Indiana State Byway on Tuesday, October 4, 2011. The Indiana portion of the Lincoln Highway now becomes part of the Indiana Byways Program. (More……)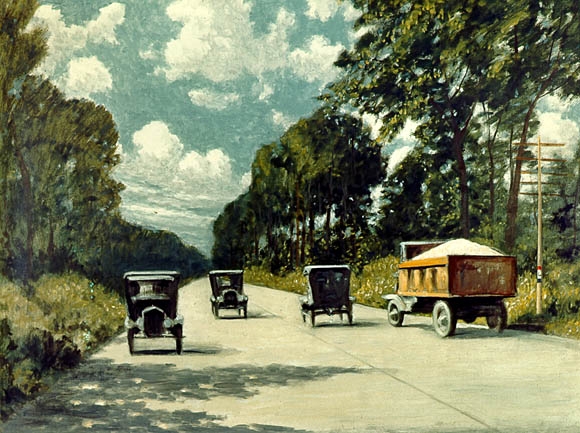 Ideal Section painting (Dyer, IN) by Carl Rakeman, courtesy Federal Highway Administration