Dear Friends of the Lincoln Highway,
Welcome to the web pages for the Indiana Lincoln Highway Association. We are proud to present information about this first coast-to-coast paved highway in the US dating to its opening in 1913. The Lincoln Highway runs from Times Square in New York City to Lincoln Park in San Francisco. Several times since its inception, the route has changed a little to either shorten the distance or improve the roads as auto traffic and speeds have increased over the last 100+ years. Our two alignments of the Highway in Indiana are generally identified as the 1913 route (or "original" route) and the 1928 route as it existed when the national LHA and the Boy Scouts together erected concrete posts and signs marking the route east and west for the traveler in that year.
But the Lincoln Highway is far more than just a road. It is the first and certainly the longest memorial to our great 16th US President, Abraham Lincoln. It was the first coast-to-coast paved highway in America. It "paved" the way for development of the travel industry and actually spiked the growth in the automobile industry. The Lincoln Highway takes one through dozens of small towns in northern Indiana…towns full of hospitality, with beautiful architecture, with lakes and streams nearby, with fine or casual dining, with hotels and motels, with places to visits, and with incredible vistas. Travel the route and walk around in one of our towns to experience Hoosier Hospitality and the relaxed nostalgia of yesteryear. We hope you will travel the road regularly and see where it takes you…we know you will enjoy the ride and the adventure.
As an organization, we at the Indiana Lincoln Highway Association (INLHA) have as our mission to educate the public on the importance of the Highway, to work with preservationists to appropriately preserve the best of our historic buildings and memorials, and to promote tourism in partnership with the various county and town visitor centers along our routes. We would love to have your help…we are a not-for-profit tax-exempt organization that can always benefit from the time and talents of its members.  At the following webpage you can sign up to become a member in both the national LHA and the Indiana LHA…we would love to share our experiences with you:
https://indianalincolnhighway.org/membership
And naturally we would be thankful for any monetary contribution you might make to support us. For a $50 donation or more we will send you a replica of the beautiful road sign we use for our Indiana Byway.
INLHA Projects currently underway include:
Developing additional "Control Stations" in South Bend, La Porte and Ligonier to add to those already created in Fort Wayne and Merrillville. Developing banners and historic panels to help friends of ours in those locations to promote the highway, plus answering questions.
Completing two historic panels with the good people of Bourbon to display in the middle of town.
We are updating our website with new printable turn-by-turn guides with mileage markers, notices of old remnants of the routes and other brief highlight notes, a listing of bridges, of historical architecture and neighborhoods, our beautiful courthouses, and many parks and trails you might enjoy visiting across our 11 counties.
Following up on road sign placements with our BYWAY signs to insure they are all in the right places and replacing any that have fallen or been stolen.                      

Our next meeting will be in June 12, 2021 in Elkhart, and we hope that we can all meet face-to-face once again. If you have a site to recommend, may we hear from you?  In the meantime, there is much to do and we are excited about all the activity!  We would love to have you add YOUR TALENTS to ours and help us in one or more ways…your time, your gifts, your knowledge, and/or your contacts. 
Want to help on one of the projects noted or have another to consider?
Can you serve with us on our relatively informal Board of Directors and help us plot the future? (Let Jeff know)
Can you send us a year end gift of $50-$75-$100? Have a special designation for it? …just let us know.
Know some history of the route or stories or magazine articles? We'd love to share them far and wide–and they do exist.
Join us in Elkhart in June and learn more.
All the best to each of you and yours.  We love the Lincoln Highway and where it leads…for one thing it leads to you!
Jeff Blair, President
Indiana Lincoln Highway Association,
801 W. Washington St.
South Bend, IN 46601
Can you help us with a donation? Even $5 or $10 would greatly help. All donations are tax deductible, as the INLHA is a 501 (c) (3) organization for IRS purpose. You can use the PayPal "Donate" button below with a credit card even if you don't have a PayPal account: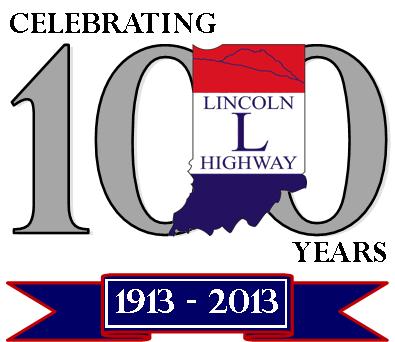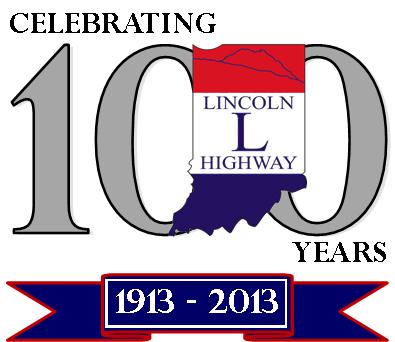 ++++++++++++++++++++++++++++++++++++++++++++
Announcing the Indiana Lincoln Highway Byway The Official State of Indiana Designation for the Old Lincoln Highway across Northern Indiana
The Board of Directors of the Indiana Lincoln Highway Association received official word from the Indiana Department of Transportation (INDOT) on Thursday, October 6th, 2011 that Indiana Lt. Governor, Becky Skillman, and INDOT Commissioner Michael B. Cline, signed the official resolution designating the historic Lincoln Highway across northern Indiana as an official Indiana State Byway on Tuesday, October 4, 2011. The Indiana portion of the Lincoln Highway now becomes part of the Indiana Byways Program. (More……)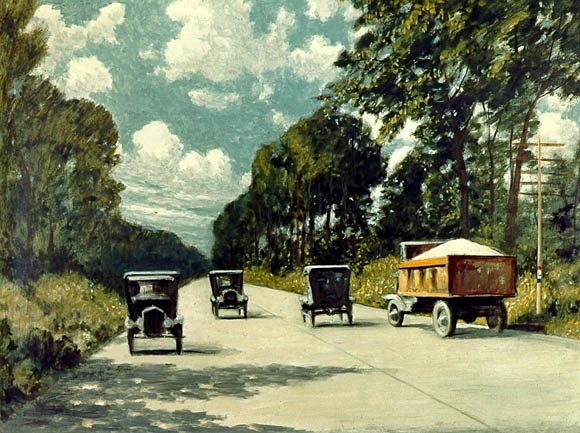 Ideal Section painting (Dyer, IN) by Carl Rakeman, courtesy Federal Highway Administration