Dear Friends of the Lincoln Highway,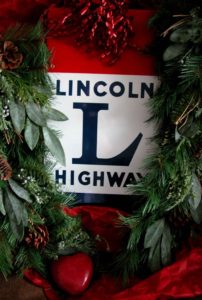 All of us at the Indiana Lincoln Highway Association wish you the happiest of Holidays this season. May both the Christmas and New Year's Day celebrations treat you and your family well and your 2023 be filled with love and fun.
2022 was an eventful year for the INLHA. We placed or replaced 20 more BYWAY signs. We introduced 3 more modern-day Control Stations with 6' tall banners and local celebrations through partnerships with the Ligonier Visitor Center, the Studebaker National and History Museums in South Bend, and the Historical Society Museum in La Porte. We made presentations to several interested groups on the national and Indiana stretches of the LH. We are completing a project in partnership with Indiana Humanities, Indiana Landmarks, and the Elkhart County Convention and Visitors Bureau to identify in detail (and with great photography) the LH through Elkhart County. We have brought two new board members onto our team. And we continue to find great partners for other projects that share our story of historical significance and positive impacts on Indiana. It's great to be a Hoosier!
As a not-for-profit organization, we rely on memberships and gifts to accomplish our mission of education and our support of tourism. So we ask you to renew your membership if you have not already done so, and we seek a donation toward a couple of worthy causes as well. Remittance forms are on page 5.
We have placed more than 200 Lincoln Highway BYWAY signs along the two alignments in both directions over the past several years, having received support from a variety of sources to get that done. On the other hand, this sign project is never really finished as we annually need more signs for new road alignments at roundabouts or traffic control situations, as well as for replacements due to accidents, theft or other reasons. Our goal to replenish our sign fund is $2,500.


---

In June of 2024 we are hosting the national Lincoln Highway Association Conference in Elkhart County and welcoming fellow LHA members from all over the country…plus in keeping with our mission, opening up the planned tours and historic presentations to the public here in northern Indiana. We are soliciting sponsorships from a variety of businesses and funding sources to keep the costs affordable for all attendees, with a goal of $10,000. Sponsorships will go toward paying for buses, meeting room rental, printing costs, and reducing admissions costs to selected museums and venues. Donors contributing $100 or more will have their names added to our list of sponsors and thanked publicly throughout the Conference. Please save the date: the Conference will be during the week of June 23-29, 2024. You will see more details as we cement our plans and we hope you will join us!
We thank you in advance for your donation of any size to our organization—it is much appreciated! Again, we say THANK YOU for being part of our team. Blessings on your holidays and 2023!
Jeff Blair, President
Indiana Lincoln Highway Association,
15493 State Road 23
Granger, IN 46530
Can you help us with a donation? Even $5 or $10 would greatly help. All donations are tax deductible, as the INLHA is a 501 (c) (3) organization for IRS purpose. You can use the PayPal "Donate" button below with a credit card even if you don't have a PayPal account: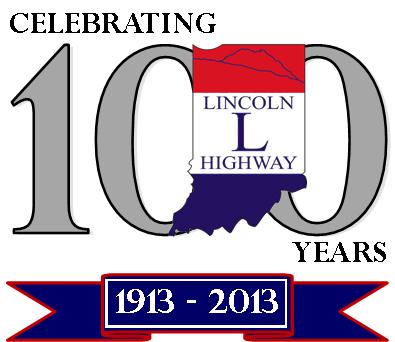 ++++++++++++++++++++++++++++++++++++++++++++
Announcing the Indiana Lincoln Highway Byway The Official State of Indiana Designation for the Old Lincoln Highway across Northern Indiana
The Board of Directors of the Indiana Lincoln Highway Association received official word from the Indiana Department of Transportation (INDOT) on Thursday, October 6th, 2011 that Indiana Lt. Governor, Becky Skillman, and INDOT Commissioner Michael B. Cline, signed the official resolution designating the historic Lincoln Highway across northern Indiana as an official Indiana State Byway on Tuesday, October 4, 2011. The Indiana portion of the Lincoln Highway now becomes part of the Indiana Byways Program. (More……)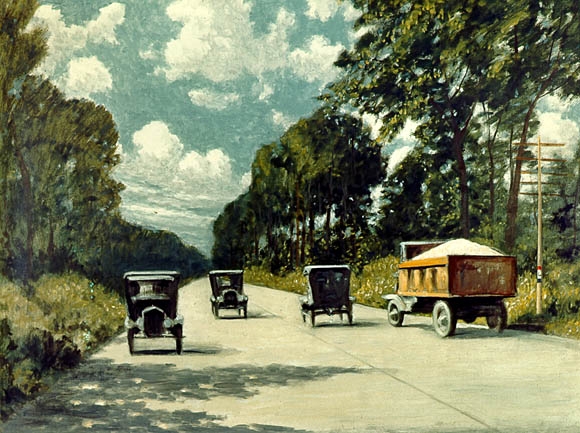 Ideal Section painting (Dyer, IN) by Carl Rakeman, courtesy Federal Highway Administration