INLHA Calendar 2013
2013 Year Long Projects:

1) Restoration of the Ostermann Memorial Bench and Site on the Ideal Section in
Dyer – Schererville, chair – Jan Shupert-Arick
2) Pole Painting Project across the Indiana Lincoln Highway Byway, chair – Jeff Blair. We will paint poles in rural areas to mark the route of the Lincoln Highway. Contact the Indiana Lincoln Highway Association office if you would like to participate.

November
Wed, November 27 – Wed, December 4, 2013
Fort Wayne – 2013 Embassy Festival of Trees
www.visitfortwayne.com/event/2013-embassy-festival-of-trees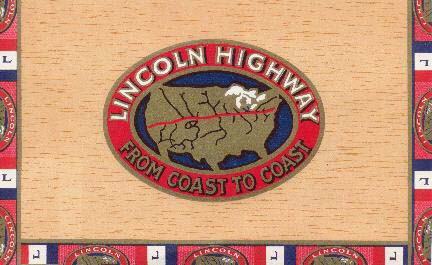 Lincoln Highway Cigar box label – National Cigar Co., Frankfort, IN