2017 was a terrific year for the Indiana Lincoln Highway Association. Among our accomplishments were:
Moved our INLHA office from the Remedy Building, 402 West Washington Street, about four blocks west to the Kizer carriage house, 801 West Washington Street.
Named Chapter of the Year at the Lincoln Highway Association Conference in Iowa, and received awards for restoration of the Ostermann bench in Dyer, Indiana, and construction of a gazebo/kiosk at Fidler Pond Park in Goshen. We also accepted an award on behalf of Dave and DiAnn Beachy for their restoration work at the Benton Cabins.
Joined a successful movement that preserved the historic character of Memorial Park, a post-WWI driving park along the Lincoln Highway in Fort Wayne.
Placed Indiana Lincoln Highway Byway Signs and turn arrows at INDOT-approved locations along both routes of the Lincoln Highway in Indiana.
Submitted National Register nomination for Benton Cabins.
Created new letterhead, membership cards and brochures.
Hosted two membership meetings – in Dyer in June, and New Haven in September.
Added several new board members as we begin to implement our Indiana Lincoln Highway Byway Corridor Management Plan.
Looking forward to 2018, we anticipate more projects aimed at generating membership, interest and activity along the Lincoln Highway.  Goals for the coming year include these projects:
Renovation of our new INLHA office space.  Currently located on the second floor of the Kizer carriage house, we will be relocating our office to the Kizer house basement, and need to raise funds to cover construction expenses.  With stone walls, exposed joists, and a turret with windows, this unique historic location will need a couple of new walls to define the space, as well as some drywall, paint, new lighting, and additional electrical outlets.
Determine a location for permanent installation of the concrete Lincoln Highway post that formerly stood outside the INLHA office at the Remedy Building in South Bend.
Continue development of a GPS-driven app with driving tours, restaurants, architectural highlights, and other attractions along and adjacent to the Indiana Lincoln Highway Byway. Apps are not inexpensive so we will need funds to complete the project. Imagine an app on your phone that points out sites of interest as you drive the Lincoln Highway!
Football great Vince Lombardi said, "The achievements of an organization are the results of the combined effort of each individual."  Similarly, accomplishment of the INLHA's objectives for 2018 will require support from each of our members and friends!  We ask you to please consider how you can help us attain our goals. The Indiana Lincoln Highway Association is a 501(c)(3) corporation, making donations tax deductible to the extent of the law.
Thanks in advance for your ongoing support of the Indiana Lincoln Highway Association!
Keith Elchert, President
Indiana Lincoln Highway Association,
801 W. Washington St.
South Bend, 46601
You can make donations by sending a check to our address above, or online with PayPal by clicking the "Donate" button below.  You can pay by credit card even if you don't have a PayPal account.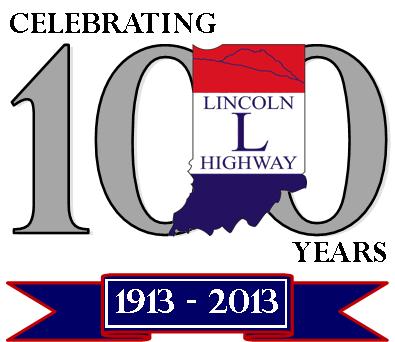 ++++++++++++++++++++++++++++++++++++++++++++
Announcing the Indiana Lincoln Highway Byway The Official State of Indiana Designation for the Old Lincoln Highway across Northern Indiana
The Board of Directors of the Indiana Lincoln Highway Association received official word from the Indiana Department of Transportation (INDOT) on Thursday, October 6th, 2011 that Indiana Lt. Governor, Becky Skillman, and INDOT Commissioner Michael B. Cline, signed the official resolution designating the historic Lincoln Highway across northern Indiana as an official Indiana State Byway on Tuesday, October 4, 2011. The Indiana portion of the Lincoln Highway now becomes part of the Indiana Byways Program. (More……)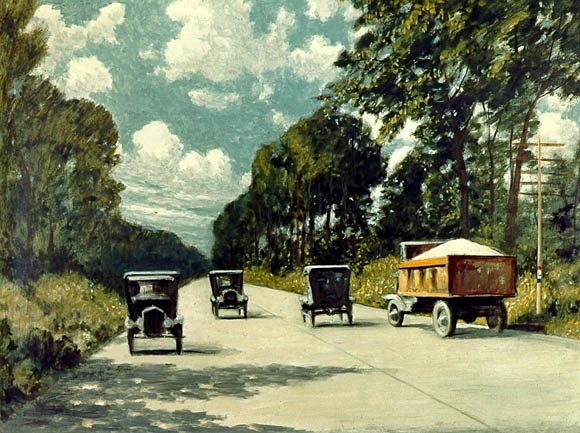 Ideal Section painting (Dyer, IN) by Carl Rakeman, courtesy Federal Highway Administration