The end of 2019 is quickly approaching  and all of us at the Indiana Lincoln Highway Association want to wish each of you a joyous Holiday Season that leads into a terrific 2020. This has been a year of transition for INLHA, as we have been out of our office  during renovations of the building that will house our new offices in South Bend. Our new address is listed below and we welcome hearing from you regarding any questions you have or ideas you suggest that can help us continue to expand and inform.
Among our accomplishments this year were the following:
We held spring and fall meetings in La Porte and Goshen, respectively. If you have never attended one of our meetings, please do…they are more than business meetings. We always like to visit some fascinating INLA sites and enjoy a leisurely lunch in one of our many great towns. Watch for an announcement of our 2020 spring meeting to be held in May or early June!
We provided informational booths at the Studebaker Swap Meet and the Concours D'Elegance at Copshaholm event in South Bend, and also participated in New Carlisle Hometown Days and the Mishawaka Heritage Festival. If you have special events in your Lincoln Highway city or town, we would love to explore the possibility of joining you.
Two separate coast-to-coast auto and military caravans (convoys) traveled across Indiana this summer. Both caravans traveled from New York/Washington D.C.  to San Francisco along the 1913 alignment  of the LH to celebrate the 100th anniversary of the 1919 U.S. Army Transcontinental  Motor Convoy (the one with a young Dwight Eisenhower along)!
We have introduced the Control Station concept where selected locations may volunteer to be a stopping point for any travelers (just like the good old days) where they can  learn about the road, its history and value to America through informational panels and meet some fine supporters of the INLHA!  Our first one was established at the Mill at Deep River Park near Merrillville…you should go visit the mill and more. We hope to deploy more Control Stations across Indiana in 2020. We will be posting an article soon describing the history of LH Control Stations and their importance to early travelers.
We initiated a program to list more details about interesting sites to see or things to do either on or near the Lincoln Highway along either alignment on our website and ultimately in brochures to provide the traveler. Architecture, auto showrooms, old segments and bridges, restaurants and places to spend the night…so much to see and do along the Lincoln Highway in Indiana. Watch the web site for updates make your trips along the LH unforgettable!
We are a not-for-profit organization with the goals of supporting Indiana tourism, educating the public about our amazing heritage of roads and sites, and preserving that heritage wherever possible. We seek your support in any way you can…your time, your talents, or your treasures. If you are inclined, please send your donation of any size to the INLHA office listed below, or via the Donate button.  We thank you for your ongoing love and support and do truly hope you have a safe and wonderful Christmas and New Years.
Jeff Blair, President
Indiana Lincoln Highway Association,
801 W. Washington St.
South Bend, IN 46601
Can you help us with a donation? Even $5 or $10 would greatly help. All donations are tax deductible, as the INLHA is a 501 (c) (3) organization for IRS purpose. You can use the PayPal "Donate" button below with a credit card even if you don't have PayPal account: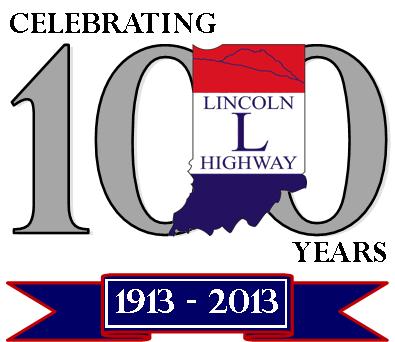 ++++++++++++++++++++++++++++++++++++++++++++
Announcing the Indiana Lincoln Highway Byway The Official State of Indiana Designation for the Old Lincoln Highway across Northern Indiana
The Board of Directors of the Indiana Lincoln Highway Association received official word from the Indiana Department of Transportation (INDOT) on Thursday, October 6th, 2011 that Indiana Lt. Governor, Becky Skillman, and INDOT Commissioner Michael B. Cline, signed the official resolution designating the historic Lincoln Highway across northern Indiana as an official Indiana State Byway on Tuesday, October 4, 2011. The Indiana portion of the Lincoln Highway now becomes part of the Indiana Byways Program. (More……)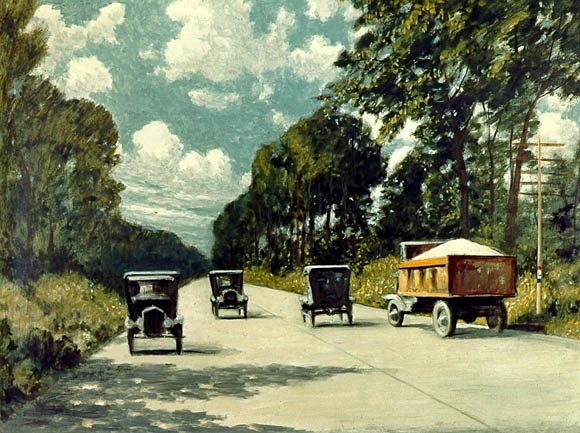 Ideal Section painting (Dyer, IN) by Carl Rakeman, courtesy Federal Highway Administration