As we near the holidays and the start of a new year, the Indiana Lincoln Highway Association can look back on a 2018 filled with successes.  Among the numerous highlights were:
Spring and Fall meetings in Churubusco and South Bend, which included programs on highway-related highlights in each of the featured cities.
Working to heighten our statewide profile through attendance and participation in the first Midwest Regional Byway Conference in Richmond in August, and informational displays at events in South Bend and New Carlisle.
Working with the Town of Dyer to secure ongoing landscape maintenance at the Lincoln Highway Henry C. Ostermann Memorial Seat & Ideal Section Monument site.
Providing historical documentation and personal interviews for an upcoming DVD by Do Good Productions on the Lincoln Highway, Ideal Section, and the restored site of the Ostermann Memorial monument.
Exploring sites for the placement of two concrete LH markers.
Continuing work on LH Historic Byway sign placement and turn-by-turn guide updates.
Our mission in 2019 is to continue building interest and engagement for the nation's oldest transcontinental highway. Fulfilling that mission is made easier with your financial support. In this season of giving, we hope you will consider a tax-deductible donation to the Indiana Lincoln Highway Association (EIN 68-0661158) so that we might continue our focus on the preservation and promotion of our state's portion of this shared national treasure.
With best regards for a happy holiday season,
Your INLHA Board of Directors
Keith Elchert, president (Fort Wayne); Sheryl Prentice, vice president (Ashley); Jeff Blair (Indianapolis); Bruce Butgereit (Grand Rapids, Michigan); Joyce Chambers (South Bend); Bev Gillespie (Granger); Brad Miller (Gary); Dave Parcell (Goshen); Deb Parcell (Goshen); Russell Rein (Ypsilanti, Michigan); Dyan Wheeler-Quilter (Portage); Creager Smith (Fort Wayne); Judy Wood (Mishawaka); Todd Zeiger (South Bend)
Indiana Lincoln Highway Association,
801 W. Washington St.
South Bend, 46601
You can make donations by sending a check to our address above, or online with PayPal by clicking the "Donate" button below.  You can pay by credit card even if you don't have a PayPal account.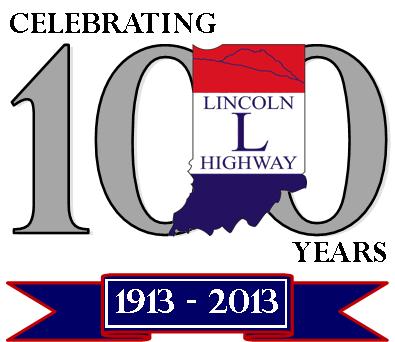 ++++++++++++++++++++++++++++++++++++++++++++
Announcing the Indiana Lincoln Highway Byway The Official State of Indiana Designation for the Old Lincoln Highway across Northern Indiana
The Board of Directors of the Indiana Lincoln Highway Association received official word from the Indiana Department of Transportation (INDOT) on Thursday, October 6th, 2011 that Indiana Lt. Governor, Becky Skillman, and INDOT Commissioner Michael B. Cline, signed the official resolution designating the historic Lincoln Highway across northern Indiana as an official Indiana State Byway on Tuesday, October 4, 2011. The Indiana portion of the Lincoln Highway now becomes part of the Indiana Byways Program. (More……)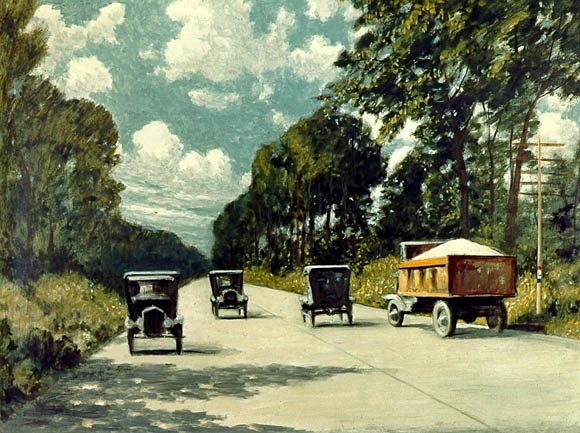 Ideal Section painting (Dyer, IN) by Carl Rakeman, courtesy Federal Highway Administration