Lincoln Highway BUY-WAY Yard Sale


Save the dates!! 

AUGUST 11, 12, & 13, 2016
Looking for a fundraising opportunity?  Since your residence, church or business is along the historic Lincoln Highway, join hundreds of others from West Virginia to Iowa who will be holding Lincoln Highway BUY-WAY Yard Sales on these dates. All sale receipts remain with the individual/group that holds the sale (unless you choose to make a tax-deductible donation to the Indiana Lincoln Highway Association), and you can choose the days/hours you wish.
Do you have some clutter that others will no doubt cherish? Set up your own table along the route!
Is your church, school, or organization looking for a unique fund-raising opportunity? Take advantage of the marketing, publicity, and customers that will be available.
Time to move some merchandise from your business or celebrate a "Sale"?  Acknowledge Abraham Lincoln and his Highway with a super sale on those dates—possible a "Sidewalk Sale!"
Like to drive and learn about our heritage, plus see some yard sales going on along the route? Get out and drive along the Lincoln Highway in Indiana for a day or two. Stop in for breakfast, lunch or dinner at one of the many great restaurants on the route and visit historic sites while you shop.
The event is piloted by the Ohio Lincoln Highway Historic Byway. More information and Ohio listings can be found at:  http://www.historicbyway.com/buy-way-yard-sale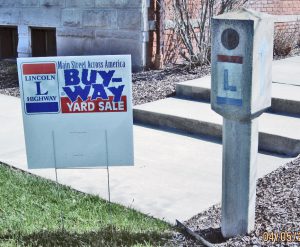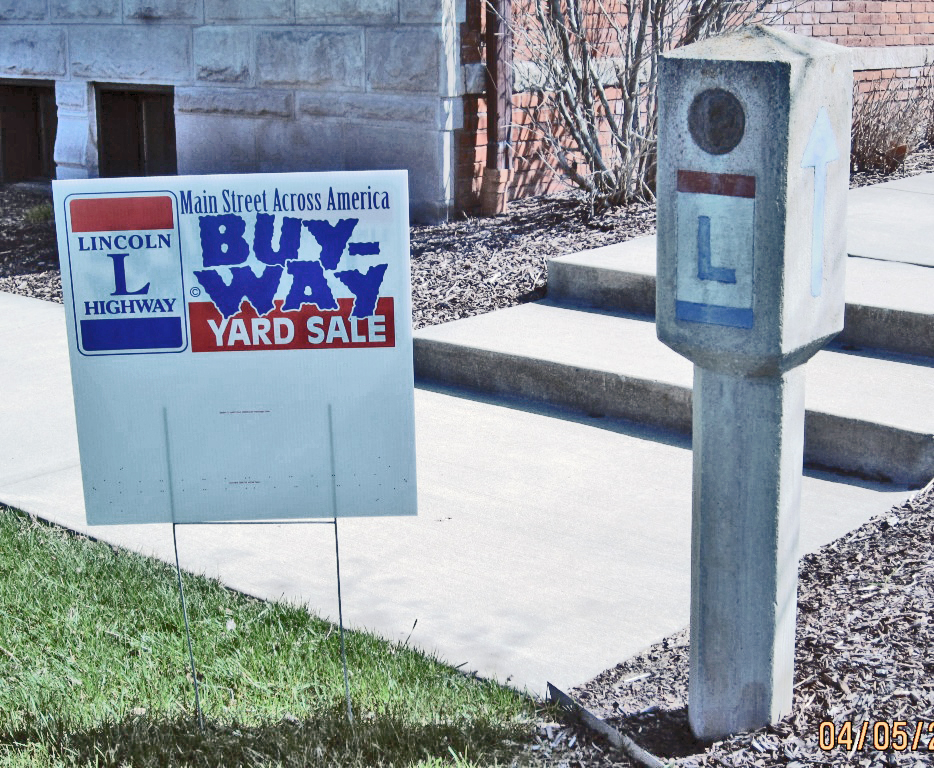 If you choose to hold a yard sale on these dates, please let us know by commenting below at the very bottom of this web page, or by e-mailing us using the link at the upper right under the Byway sign. We will then add your information to this page to publicize your sale. We also have LH BUY-WAY Yard Sale signs (that can be customized for your location) with wire brackets for sale @ $12.00.  Contact Bev at lincolnhighwayassoc.office@yahoo.com or 574-210-6278 for more details.
Thank you.
Joyce Chambers, Coordinator (574-272-5374)
Indiana Lincoln Highway Association, 402 W. Washington St., South Bend, IN 46601
SALE LISTINGS
Bourbon – 11526 Gumwood Rd – NE corner of Gumwood Road and Lincoln Highway (Old US Hwy. 30) in tents on the north side of the highway.  Hours – 9:00 am – 5:00 pm each day, August 11,12,and 13. This is about 3 miles W of Bourbon proper.
****************************************************************************************************
Dear Indiana Lincoln Highway Association Members and Friends,
In 2016 we will participate in the state-wide celebration of Indiana's Bicentennial! We know that this year-long event will bring tourists from near and far and we want to enable them to easily drive and explore the Lincoln Highway. In order to do that, we invite you to support one of more of the following projects:
Consistent signage of both alignments of Indiana's Lincoln Highway. Sadly, signage is currently rather hit-and-miss, depending on the location. Our new Byway signs will allow tourists to follow the Route much more easily. Each sign plus directional arrow costs roughly $70, and we need 170 of them.
Indiana Byways Bicentennial Passport program. Each of the seven Indiana Byways has selected several sites at which travelers can check in and have their Byways Passport stamped. The goal is that families will be encouraged to explore the historic roads while collecting stamps. The INLHA needs $750 to fund the production of the passports and LH stamps for each of the 10 sites, as well as complementary literature describing the Route.
Completion of the Goshen Gazebo and Ostermann Memorial site in Dyer so they are ready for Bicentennial visitors in early 2016.
Please consider how you can help us accomplish these goals! Checks can be mailed to the address below. Please make checks payable to INLHA, and include your name, address, phone number and e-mail address. Also let us know if your donation is for a specific program. You can also donate online via the PayPal – Donate button below. PayPal has a comments section for your additional information. The Indiana Lincoln Highway Association is a 501(c)(3) corporation so donations are deductible to the extent of the law.
Thank you in advance for your support of the Indiana Lincoln Highway Association.
Jeff Blair, President, Indiana Lincoln Highway Association, jeffblair87@gmail.com
Indiana Lincoln Highway Association,
402 West Washington St
South Bend, IN 46601
You can make donations by sending a check to our address above, or online with PayPal by clicking the "Donate" button below.  You can pay by credit card even if you don't have a PayPal account.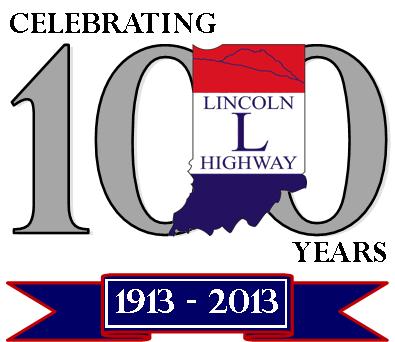 ++++++++++++++++++++++++++++++++++++++++++++
Announcing the Indiana Lincoln Highway Byway The Official State of Indiana Designation for the Old Lincoln Highway across Northern Indiana
The Board of Directors of the Indiana Lincoln Highway Association received official word from the Indiana Department of Transportation (INDOT) on Thursday, October 6th, 2011 that Indiana Lt. Governor, Becky Skillman, and INDOT Commissioner Michael B. Cline, signed the official resolution designating the historic Lincoln Highway across northern Indiana as an official Indiana State Byway on Tuesday, October 4, 2011. The Indiana portion of the Lincoln Highway now becomes part of the Indiana Byways Program. (More……)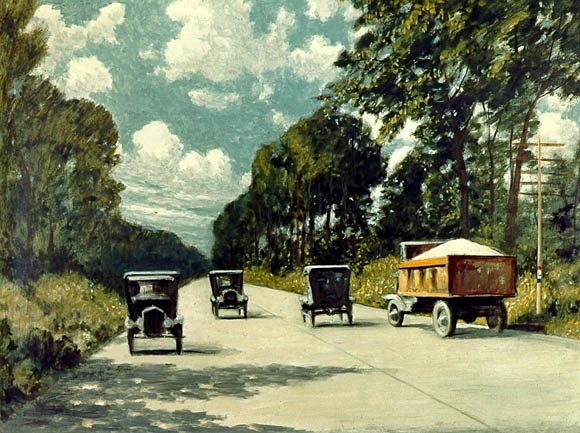 Ideal Section painting (Dyer, IN) by Carl Rakeman, courtesy Federal Highway Administration