Donate to the Indiana Lincoln Highway Effort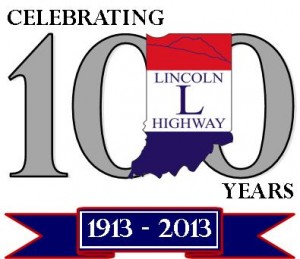 Dear INLHA members and friends of the road,
The mission and work of the Indiana Lincoln Highway Association continue to be very personal to our directors and members.  Whether we belong because we love two-lane highways or because we know the corridor has great potential for tourism, economic development and historic preservation, we are involved because we feel it is important to Indiana's future. That will be especially true in 2013, the year of the Lincoln Highway centennial celebration. As we enter that year, we look back on all we accomplished in 2012:
We were named Chapter of the Year by the national Lincoln Highway Association.
We dedicated another Indiana Lincoln Highway kiosk in La Porte where we also held our annual meeting.
We marked the kickoff of the Lincoln Highway centennial celebration with a two-day event in September in Indianapolis, the city where Carl G. Fisher and James Allison conceived their idea for a coast to coast highway.
We began a statewide pole-painting project, replicating the highway's original marking.
We held a directors' meeting in Fort Wayne in November, where two new members were welcomed to the board – Lynne McKenna Frazier and Rose Fritzinger.
We published a driving guide allowing people to trace the Lincoln Highway's northern and southern routes through Indiana with turn-by-turn accuracy. It is also available on our website on the Maps / Directions page.
We created new INLHA rack cards that are ready for distribution around the state.
We secured funding to begin the restoration process on the Ostermann Memorial in Dyer.
We partnered with Indiana Landmarks on this summer's Lincoln Highway Adventure, which took participants from South Bend to Wolf Lake.
The INLHA provided a Lincoln Highway display and program for the Bittersweet Branch library in Osceola and a program for the Questers in September.
We received an Indiana Humanities grant for next summer's centennial exhibit at the Studebaker National Museum.
We received a nearly $52,000 grant from federal byway program through the Indiana Department of Transportation to prepare a Byway Corridor Management Plan.
That Corridor Management Plan is central to our appeal to you for 2013. The INLHA needs to provide $6,000 to match the federal byway grant. The plan will assist us greatly in our mission of sharing the story of the Lincoln Highway and its Indiana roots.  Your end-of-the-year contribution (in whatever amount) will be greatly appreciated and shows how our membership supports the work we are doing and the successes we have had over the last several years.  Contributions made to the INLHA  are tax deductible. You can mail a check to our office:
Indiana Lincoln Highway Association,
402 West Washington St
South Bend, IN 46601
You can make donations online with PayPal by clicking the "Donate" button below.  You can pay by credit card even if you don't have a PayPal account.
Sincerely,
Your INLHA Board of Directors,
Laura Weston-Elchert (President, Fort Wayne), Jan Shupert-Arick (Vice president, Naperville, IL), Jeff Blair (Treasurer, Leesburg), Joyce Chambers (Secretary, South Bend), Bruce Butgereit (Grand Rapids, MI),  Rose Fritzinger (Monroeville), Dennis Horvath (Indianapolis), Lynne McKenna Frazier (Fort Wayne), Russell Rein (Ypsilanti, MI), Deb Parcell (Goshen), Fred Sachtleben (La Porte), Carl Littrell (Executive Adviser, South Bend)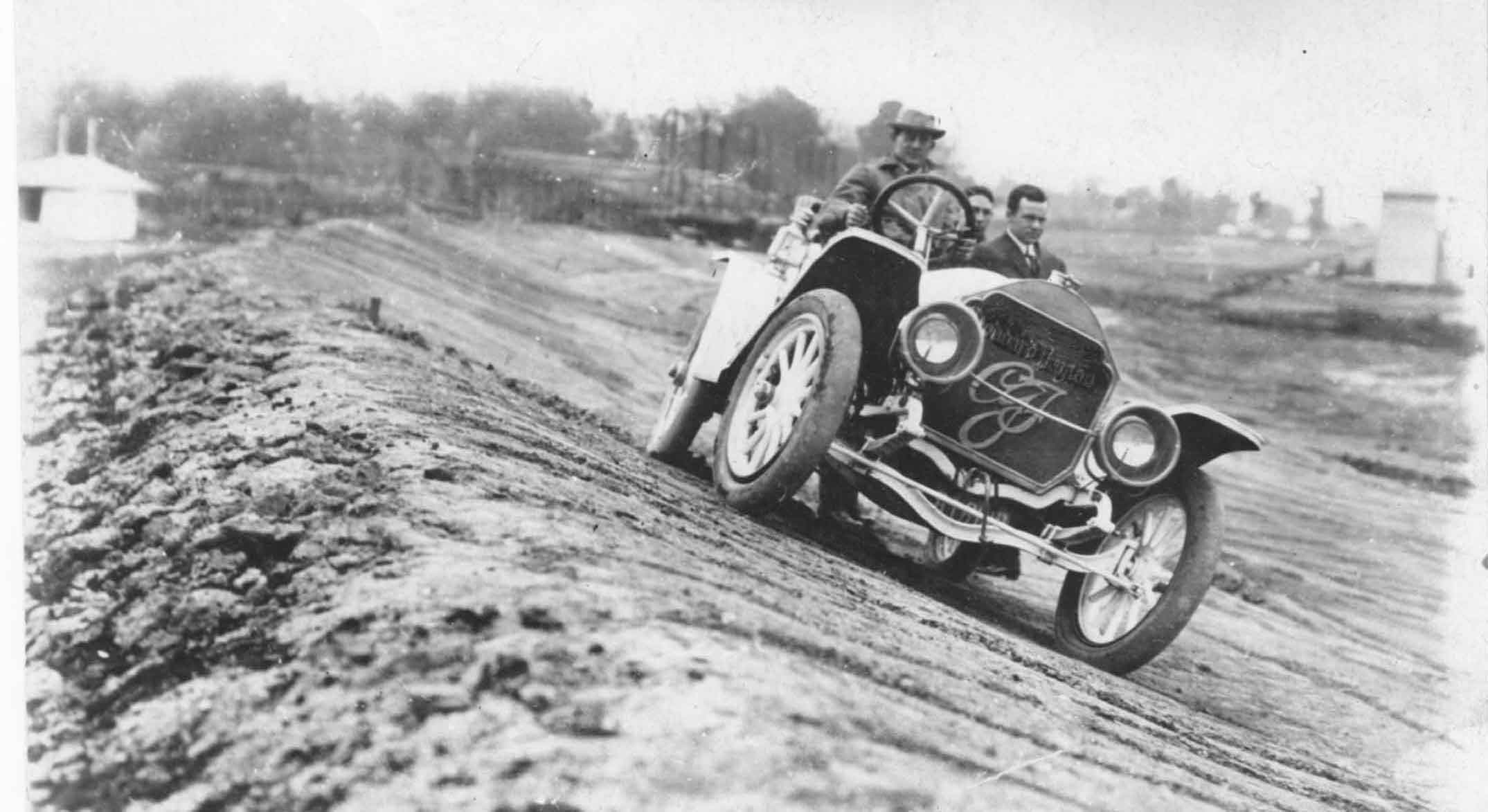 Carl Fisher driving his Stoddard-Dayton on an inspection run around the Speedway under construction in May, 1909 – note his initials on the radiator. The other person in the front seat is W.S. Gilmore, then a member of the Indianapolis Star staff, who went on to be managing editor of the Detroit News.
++++++++++++++++++++++++++++++++++++++++++++
Announcing the Indiana Lincoln Highway Byway The Official State of Indiana Designation for the Old Lincoln Highway across Northern Indiana
The Board of Directors of the Indiana Lincoln Highway Association received official word from the Indiana Department of Transportation (INDOT) on Thursday, October 6th, 2011 that Indiana Lt. Governor, Becky Skillman, and INDOT Commissioner Michael B. Cline, signed the official resolution designating the historic Lincoln Highway across northern Indiana as an official Indiana State Byway on Tuesday, October 4, 2011. The Indiana portion of the Lincoln Highway now becomes part of the Indiana Byways Program. (More……)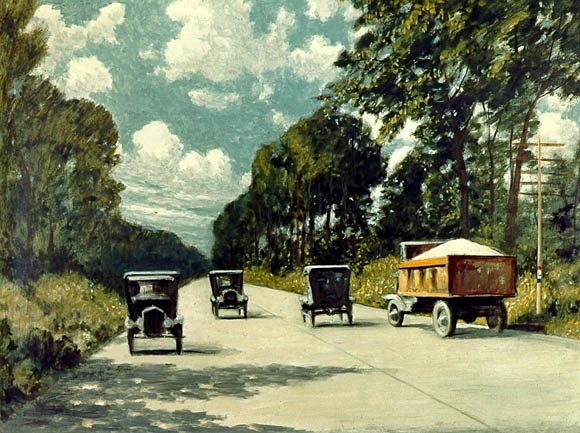 Ideal Section painting (Dyer, IN) by Carl Rakeman, courtesy Federal Highway Administration