Here we are in the middle of 2020 and we truly hope you and yours are effectively dealing with the coronavirus. We want you to know that love conquers all and togetherness is the only way to address some of our issues. We love each of you.
You might wonder what we are up to at the Indiana Lincoln Highway Association (INLHA) in the midst of all this and where we are going in this fiscal year 2020-2021. I will try to bullet the topics rather than ramble on, but feel free to contact me or others on our board if you would like more detail.
One of our top projects right now is the addition of more of the LH BYWAY signs that you see across our 2 alignments. We placed our first signs about 3 years ago and some need replacing, some routing has changed, some were actually stolen, and some extras are being added to benefit the traveler. If you can, we ask you help contribute to this project. Each sign costs over $40 and each turn arrow costs nearly $15 and we need 70-80 more, so you can see it adds up quickly.
CAN YOU AFFORD TO SEND US $50 OR $100 OR MORE TO HELP SIGN THE STATE THOROUGHLY? WE WILL SEND YOU A POSTER BOARD REPLICA OF THE  24" x 24" BYWAY SIGN IF YOU SEND AT LEAST $50. THANK YOU !!
We will continue to work on our Control Station history signs in key places across the state. Next up is Bourbon where they are creating a historic corner in the middle of town and we are honored to place historic panels regarding the LH and its impact on the area. Come see it later this year along Old 30.
This year we have named a County Consul or representative for each of 11 counties for the two alignments. These Consuls will work closely with CVB's and Historic Museums on displays, advertising, building long term relationships, addressing potential route changes (roundabouts area beast), and driving the whole board to be responsive to the community.
Due to COVID-19 concerns for many, we held our spring meeting via ZOOM…likely our first one held electronically ever. It worked well for the first time and if weather or other concerns get in the way of getting together in the future, we might do it again. In the fall we hope to be in Hanna for ½ day of touring the area, seeing the new bridges that have been painted by local residents (see the picture of one bridge here), and holding a business meeting full of updates. Mark your calendars for the morning of October 24 for that get together. It'll be fun!
A project just beginning is the potential to move some old tourist cabins on the west side of South Bend at US 20 and Quince Road someplace nearby (we hope) and find a way to preserve them for visitors to learn what early motels/tourist cabins were like…and maybe become a Control Station site as well! Similar to the work being done at the Benton Cabins east of Goshen. Are you aware of other old buildings that have historic cache and need some TLC? Let us know.
Jeff Blair, President
Indiana Lincoln Highway Association,
801 W. Washington St.
South Bend, IN 46601
Can you help us with a donation? Even $5 or $10 would greatly help. All donations are tax deductible, as the INLHA is a 501 (c) (3) organization for IRS purpose. You can use the PayPal "Donate" button below with a credit card even if you don't have PayPal account: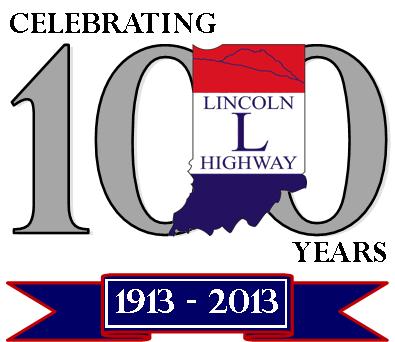 ++++++++++++++++++++++++++++++++++++++++++++
Announcing the Indiana Lincoln Highway Byway The Official State of Indiana Designation for the Old Lincoln Highway across Northern Indiana
The Board of Directors of the Indiana Lincoln Highway Association received official word from the Indiana Department of Transportation (INDOT) on Thursday, October 6th, 2011 that Indiana Lt. Governor, Becky Skillman, and INDOT Commissioner Michael B. Cline, signed the official resolution designating the historic Lincoln Highway across northern Indiana as an official Indiana State Byway on Tuesday, October 4, 2011. The Indiana portion of the Lincoln Highway now becomes part of the Indiana Byways Program. (More……)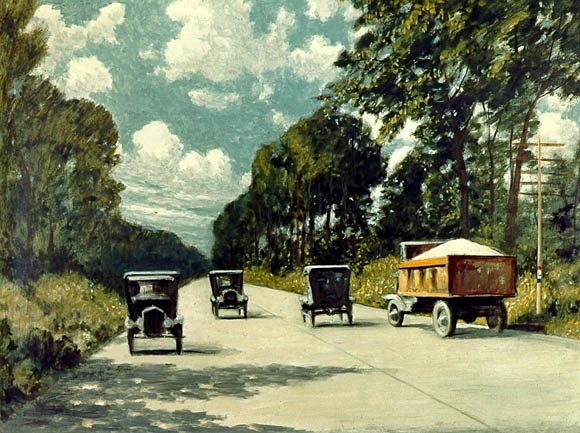 Ideal Section painting (Dyer, IN) by Carl Rakeman, courtesy Federal Highway Administration