Dear Friends of the Lincoln Highway,
The end of the year is upon us…and what a year it has been! The coronavirus has changed the way everyone approaches their activities, their work, their neighbors, their churches…most everything. We do hope you are staying safe and being smart about your care and actions. Regardless, there is much in our lives to be thankful for and we must continue to strive for balance.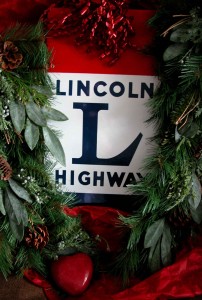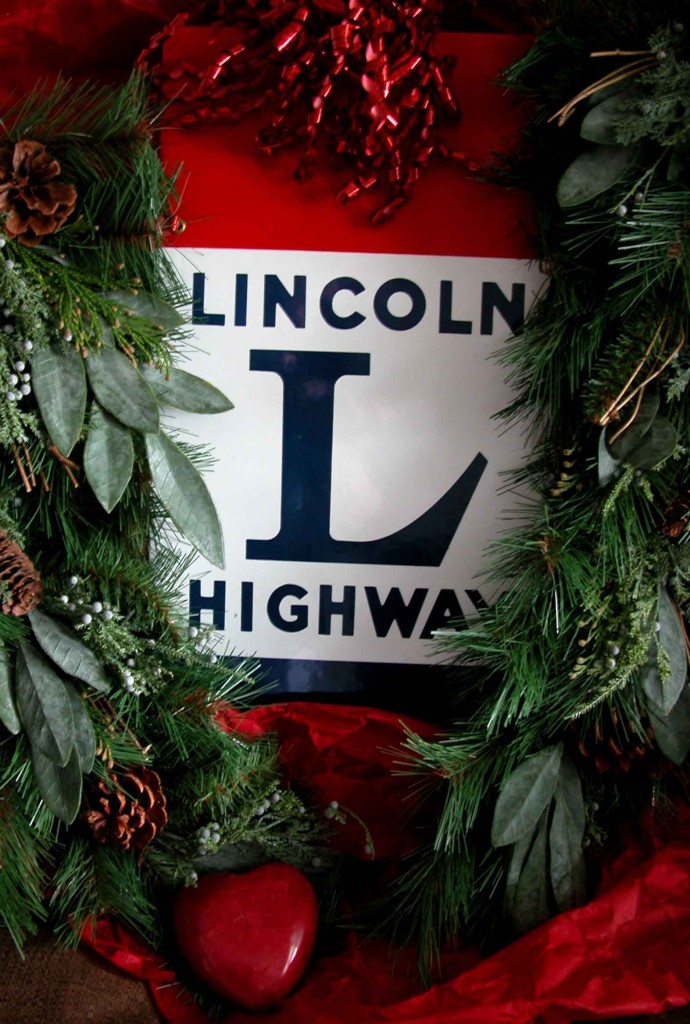 We lost two friends of INLHA this year in Jim Chambers and Monte Gillespie and we know you join with us in prayers for Joyce and Bev and their families through this season and beyond. They were both wonderful men and are missed.
The Indiana Lincoln Highway Association (INLHA) has continued to move forward as much as possible in this environment and I would like to share some of the activities completed or underway:
A virtual business meeting was held in May…our first ever ZOOM meeting which at the time felt like a huge reward after being hunkered down so long.
In late October we had our second board/business meeting…this time half of the attendees were in Hanna for the day and the other half joined us for a ZOOM business meeting. That too, felt so good to see old friends either on the computer or "live" as we all weather the virus and yet keep making LH decisions and progress.
In Hanna we also got to see up close the two bridges, one each on either side of town, that the local Lions Club has painted the rousing red, white, and blue of the Lincoln Highway. They are eager to do more to promote the LH in their community and we will help wherever possible.
Between our savings, several member donations, and a wonderful national grant from the LHA board, we were able to purchase another 80 HISTORIC BYWAY signs, plus turn arrows, posts and attachment mechanisms. These have all been distributed to the 20+ jurisdictions we work with and are going up now and over the winter to help our tourists navigate the two alternate LH routes across Indiana in both directions.
We were able to place a 1928 Boy Scout concrete marker, one of the original ones, at the Fort Wayne Visitor Center on October 30. What a way to commemorate the parades and bonfires on Halloween in 1913 affirming the original route, to celebrate the anniversary of the Boy Scouts marking the route in 1928, and continuing to honor our great 16th President. Hats off to the city of Fort Wayne.
We applied for and received a $1,720 Indiana Landmarks/Indiana Humanities grant to place banners and signs at key locations along the LH in Indiana, designating them as Control Stations. The signs are attention getters for visitors, and the banners spell out the history of the Lincoln Highway (especially in Indiana) and the value of Control Stations to the early traveler. In short, Control Stations were answer-providers on where to obtain gas or supplies, where to bed down, what the roads ahead were like, but also provided an opportunity to reset one's odometer at 0 and determine the best route and distance to the next Station as described in The Complete Official Road Guide of the Lincoln Highway.
Over this winter we have a number of projects or potential projects we will be working on:

Determining the cities and towns along the route where the next Control Stations will be placed next summer
Partnering with the leaders of the city of Bourbon to place historic panels in the center of town to remind travelers of the significance the Lincoln Highway had for their community
Completing an updated Turn-by-Turn Guide for two routes and in two directions available to anyone traveling the LH in Indiana                                                        

Our next meeting will be in May of 2021 and we hope that we can all meet face-to-face once again. If you have a site to recommend, may we hear from you?  In the meantime, there is much to do and we are excited about all the activity!  We would love to have you add YOUR TALENTS to ours and help us in one or more ways…your time, your gifts, your knowledge, and/or your contacts. 
Want to help on one of the projects noted or have another to consider?
Can you serve with us on our relatively informal Board of Directors and help us plot the future? (Let Jeff know)
Can you send us a year end gift of $50-$75-$100? Have a special designation for it? …just let us know.
Know some history of the route or stories or magazine articles? We'd love to share them far and wide–and they do exist.
Join us wherever we are in May and learn more.
All the best of this holiday season to each of you and yours.  We love the Lincoln Highway and where it leads…for one thing it leads to you!
Jeff Blair, President
Indiana Lincoln Highway Association,
801 W. Washington St.
South Bend, IN 46601
Can you help us with a donation? Even $5 or $10 would greatly help. All donations are tax deductible, as the INLHA is a 501 (c) (3) organization for IRS purpose. You can use the PayPal "Donate" button below with a credit card even if you don't have PayPal account: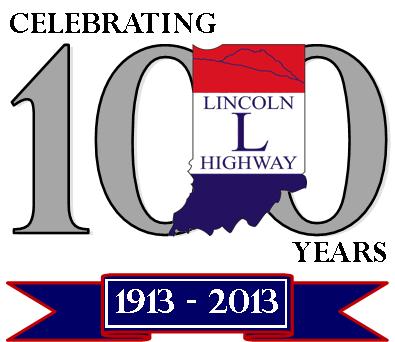 ++++++++++++++++++++++++++++++++++++++++++++
Announcing the Indiana Lincoln Highway Byway The Official State of Indiana Designation for the Old Lincoln Highway across Northern Indiana
The Board of Directors of the Indiana Lincoln Highway Association received official word from the Indiana Department of Transportation (INDOT) on Thursday, October 6th, 2011 that Indiana Lt. Governor, Becky Skillman, and INDOT Commissioner Michael B. Cline, signed the official resolution designating the historic Lincoln Highway across northern Indiana as an official Indiana State Byway on Tuesday, October 4, 2011. The Indiana portion of the Lincoln Highway now becomes part of the Indiana Byways Program. (More……)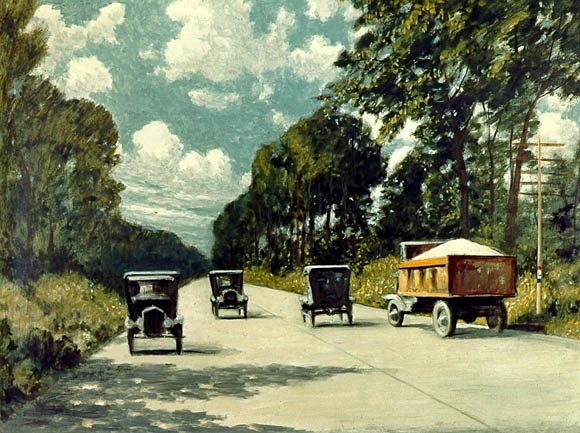 Ideal Section painting (Dyer, IN) by Carl Rakeman, courtesy Federal Highway Administration