Category Archives:
Goshen
On July 21, explore the historic Lincoln Highway Byway's 1913 route through St. Joseph, Elkhart, and Noble Counties during Indiana Landmarks' Lincoln Highway Adventure and Moveable Feast. The Adventure is a partnership of the Indiana Lincoln Highway Association and Indiana Landmarks.
Follow the highway east from South Bend through scenic landscapes; explore historic sites, and enjoy dining and shopping in towns along the route, including Mishawaka, Elkhart, Goshen, Ligonier, Kimmell, and Wolf Lake.
End the day in Ligonier, where the Movable Feast showcases landmarks including the 1889 Ahavas Sholom Temple, 1899 Solomon Mier House, 1839 Stone's Trace Historic Site, 1879 Kimmell House, and 1930 Luckey Hospital Museum.
Each registered vehicle will receive an Adventure Bag with a dash plaque, discount coupons, and Adventure Passport Booklet containing information about sites along the route with by turn-by-turn directions. Check in via FourSquare or stay connected through your other favorite social media during the Adventure. The Lincoln Highway Adventure welcomes families, car clubs and caravans.
For more information, contact Indiana Landmarks' Northern Regional Office, 574-232-4534 or north@indianalandmarks.org.
Buy tickets to the Adventure and the Movable Feast online at: http://adventure2012.eventbrite.com/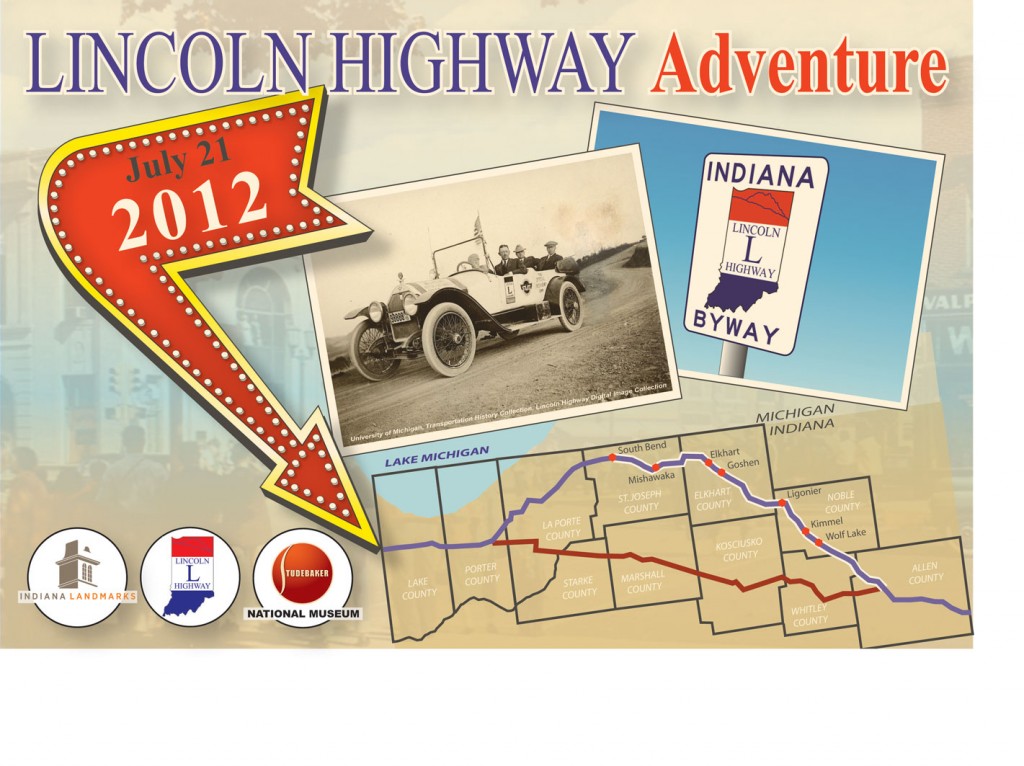 As you tour the Indiana Lincoln Highway this summer and fall be sure to check out one of the many festivals taking place:
Columbia City
August 10-12, Mihsihkinaahkwa Pow Wow, www.miamipowwow.org
Fort Wayne
July 13-21, Three River Festival, www.threeriversfestival.org
September 15-16, Johnny Appleseed Festival, www.johnnyappleseedfest.com
Goshen
June 1, July 6, August 3, September 7, October 5, November 2-3, and December 7, First Fridays – Downtown, www.cityonthego.org/first_fridays
July 20-28, Elkhart County 4-H Fair, www.4hfair.org
La Porte
July 15-21, La Porte County Fair, www.laportecountyfair.org
Ligonier
August 31-September 3, Marshmallow Festival, http://www.themarshmallowfestival.com/
September 8-9, Stone's Trace Pioneer Festival, http://www.stonestrace.com/schedule-of-events.html
October 1-31, Pumpkin Fantasyland, www.fashionfarminc.com
New Carlisle
July 27-29, New Carlisle Home Town Days, www.hometowndays.net
Plymouth
August 31-September 3, Marshall County Blueberry Festival,  www.blueberryfestival.org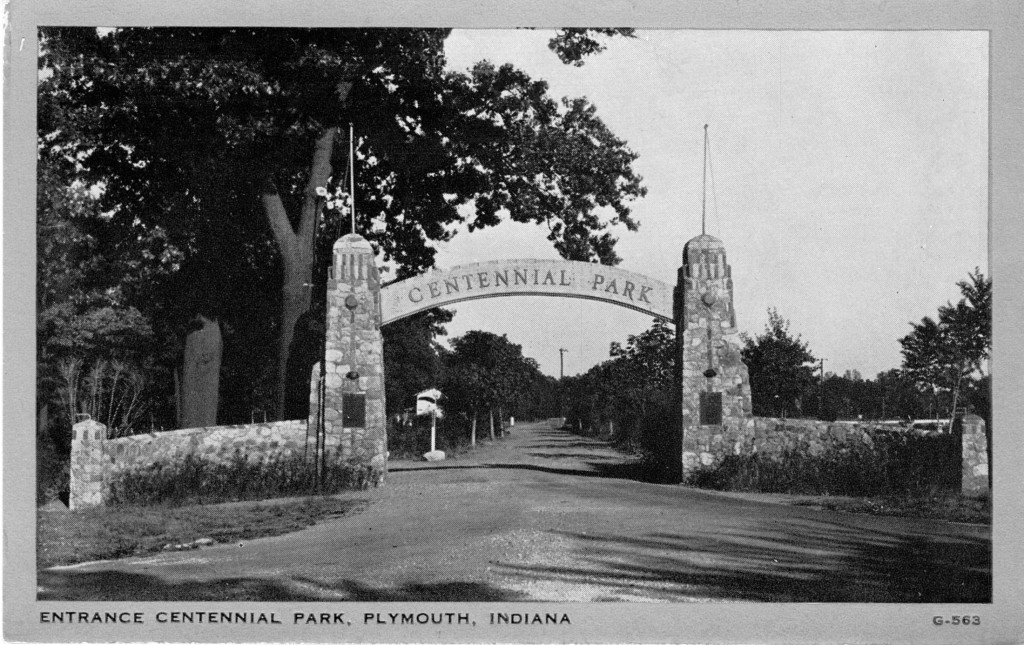 Site of the Blueberry Festival, on the Dixie Highway just north of the Lincoln Highway     Intersection
South Bend
June 9, Blues and Ribs Festival – Downtown, http://sbpark.org/activities/special-events/south-bend-blues-and-ribs-festival/
July 20-21, South Bend College Football Hall of Fame Enshrinement Festival, www.enshrinementfestival.org
Valparaiso
September 8, Valparaiso Popcorn Festival,  http://www.valparaisoevents.com/popcorn%20festival/
Wanatah
September 21-23, Wanatah Scarecrow Festival, www.scarecrowfest.org
Warsaw
June 9, Northern Indiana Lakes Festival, www.lakesfestival.org
July 9-14, Kosciusko County Community Fair, www.kcfair.org
Westville
September 28-30, Westville Pumpkin Festival, http://mcaf.ee/lr7i8