In 1928, when the Boy Scouts of America traveled across the USA placing cement Lincoln Highway markers on the Lincoln Highway routes, they probably never dreamed of the profound positive impact those markers, their efforts and the Lincoln Highway would have on so many people through the generations. Now, YOU have an historic opportunity to help purchase signs to mark the Lincoln Highway. And, it will be in time to mark Indiana's Bicentennial Celebration in 2016! We need to work fast to get this accomplished. . . .
As you may know, in 2012 our two Indiana Lincoln Highway routes were designated as a state BYWAY, and we are in the process of completing a Corridor Management Plan. This is being accomplished through the Indiana Lincoln Highway Association (INLHA), an organization working to preserve and celebrate the legacy of the nation's first transcontinental highway as well as our 16th President, Abraham Lincoln. Indiana is fortunate to not only be the birthplace of the Lincoln Highway, but to have both an original "northern" route and a more direct "southern" route. In 2013, we celebrated the Lincoln Highway's centennial year: it was in late 1912 that Hoosier Carl Fisher gathered a group of fellow auto magnates in Indianapolis to share his vision of a coast-to-coast tribute to the nation's 16th president with the official route following and named in mid-1913. You can learn more about the INLHA, our BYWAY award, and the transcontinental Lincoln Highway at our website, www.indianalincolnhighway.org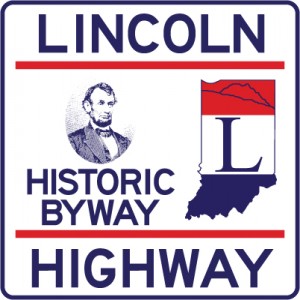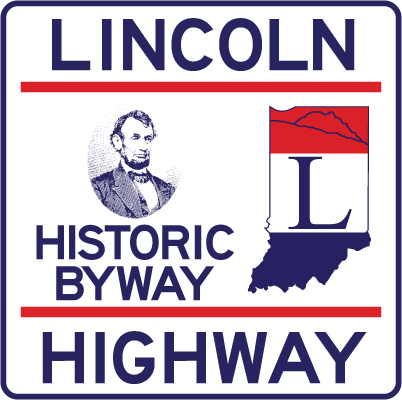 Now, we need your help to provide funds for the INLHA to purchase 170 BYWAY signs to be placed along Indiana's Lincoln Highway routes. These new INDOT-approved BYWAY signs will be strategically placed on the LH in order to help direct those who are visiting. Each BYWAY sign with directional arrow costs $70. Will you consider purchasing one, two or more of these LH BYWAY signs? Our goal is to purchase $12,000 worth of these BYWAY signs.
Our INLHA Board members have already begun the momentum for this project to succeed by providing the cash for purchasing several signs! Won't you help us to reach our goal for this project by providing funds to purchase a sign? Please complete the  INLHA Donation Form to be part of Lincoln Highway history. Download it online here at:
https://indianalincolnhighway.org/wp-content/uploads/2015/12/BYWAY-Sign-Donation-Form.pdf
You can also donate online at our home page using the PayPal Donate button. Just include the requested information in the PayPal comments section.
If you have questions, contact Jeff Blair at jeffblair87@gmail.com . Thank you for your consideration of this request. Please note that the date to return your INLHA BYWAY Sign Donation Form is December 31, 2015.
Sincerely,
2015 Indiana Lincoln Highway Association board members: Jeff Blair, Bruce Butgereit, Joyce Chambers, Lynne McKenna-Frazier, Rose Fritzinger, Beverly Gillespie, Deb Parcell, Russell Rein, George Rogge, and Judy Wood