Save the dates!!  AUGUST 8 – 10, 2019
Looking for a fundraising opportunity?  Since your residence, church or business is along the historic Lincoln Highway, join hundreds of others from West Virginia to Iowa who will be holding Lincoln Highway BUY-WAY Yard Sales on these dates.  All sale receipts remain with the individual/group that holds the sale (unless you choose to make a tax-deductible donation to the Indiana Lincoln Highway Association), and you can choose the days/hours you wish.
Do you have some clutter that others will no doubt cherish?   Set up your own table along the route!
Is your church, school, or organization looking for a unique fund-raising opportunity?  Take advantage of the marketing, publicity, and customers that will be available.
Time to move some merchandise from your business or celebrate a "Sale"?  Acknowledge Abraham Lincoln and his Highway with a super sale on those dates—possibly a "Sidewalk Sale!"
Like to drive and learn about our heritage, plus see some yard sales going on along the route?  Get out and drive along the Lincoln Highway in Indiana for a day or two.  Stop in for breakfast, lunch or dinner at one of the many great restaurants on the route and visit historic sites while you shop.
For more information and tips on participating in the Lincoln Highway BUY-WAY Yard Sale go to www.historicbyway.com.  To learn more about the Lincoln Highway go to www.IndianaLincolnHighway.org  or www.lincolnhighwayassoc.org.
If you choose to hold a yard sale on these dates, please LET US KNOW  by returning the following form:
http://indianalincolnhighway.org/wp-content/uploads/2019/05/INLHA-Buyway-2019.pdf
so we can publicize it on our website and Facebook page. Current sale listings will be at the top of our Facebook page: https://www.facebook.com/indianalincolnhighway/
A week before the sale we will publish a new website blog entry will all the sale listings.
We also have LH BUY-WAY Yard Sale signs (that can be customized for your location) with wire brackets for sale @ $12.00.  Contact Bev at lincolnhighwayassoc.office@yahoo.com or 574-210-6278 for more details.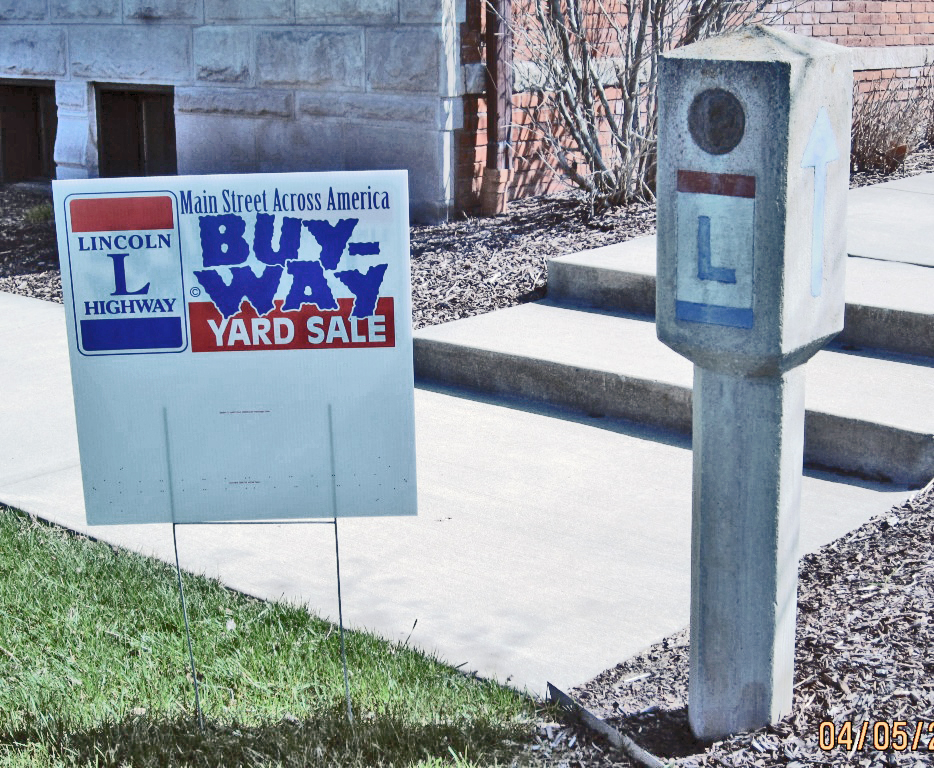 Thank you.
Joyce Chambers, Coordinator (574-272-5374)
Indiana Lincoln Highway Association, 801 W. Washington St., South Bend, IN 46601