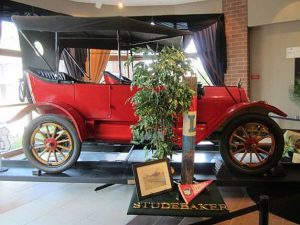 The Indiana Lincoln Highway Association
Invites you to our Fall Event:

Studebaker Saturday in South Bend


Saturday, October 27, 2018
$15 for lunch, program, and tours

Come and learn about the Studebaker connections with the Lincoln Highway.

The Itinerary:
9:30 am (EDT): Optional tour of the INLHA office in the Kizer Carriage House behind the mansion at 801 W. Washington Street, South Bend 46601. We will also look at the potential new space in the basement of the mansion. This is currently an active (muddy!) work zone, so wear appropriate shoes. Temporary parking is available at the insurance office next door.
10:00 am: Meet at the Studebaker National Museum – 201 Chapin St., South Bend, IN 46601. Please park in the auxiliary lot behind the white Worker's House if possible. Our meeting will be in the Board Room on the second floor. An elevator is available.
10:20 am: A PowerPoint presentation on the Lincoln Highway and Studebaker sites in South Bend will be given by a local historian.
11:00 am: A guided tour of the Studebaker National Museum focusing on Lincoln (the carriage he rode to Ford's theater) and Lincoln Highway related artifacts (1913 Studebaker with Prest-O-Lite tank, patent papers for the LH logo) and more.
12:00 pm: Box lunch in the Board Room. Please select from menu options on the  downloadable PDF registration form..
12:45 pm: INLHA membership meeting.
Click below for a registration form PDF which also includes your box lunch menu selections:
http://indianalincolnhighway.org/wp-content/uploads/2018/10/INLHA-10-2108.pdf
Your registration form can be mailed in with a check payable to INLHA at 801 W.
Washington St., South Bend, IN 46601
You can also pay by PayPal online by even if you don't have a PayPal account. Just
scroll down on our homepage http://indianalincolnhighway.org/ until you see the Donate
button. For online payments please include an extra $1.00 for processing. Make sure
you include your name, contact information, and menu selection in the PayPal comment
section – thanks!